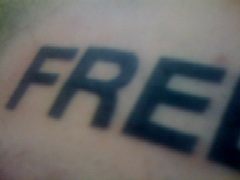 Thank you.
From the suckiest 2007 to the best year of my life. Some move! 2008 saw me finishing up in my day job and working for myself and being diagnosed with MS. No no, this was good. I got a tattoo with the word "Free" inked on my chest a few months ago just to remind myself of this year and what happened. MS was the best wake-up call ever. It made me realise life is short, most people are worth loving while a few aren't worth your time at all. I'm caring more and I'm caring less. I'm working harder than ever and loving every single second of it. Work for me now is 7 days a week, 16 hours a day at times and it's totally fun. Money and tangibles became even less important for me in 2008 than previously. I'm saying "ah well" more than ever before too because I'm taking risks and that's a phrase you'll say now and then after you take that risk.
I've lost some friends but I've gained tonnes more and am now not just surrounded but mobbed by amazing and inspiring people, many of them read and contribute to this blog. You all rock! I've got some plans for 2009 and 2010 and 2011 and 2012 as it happens but I don't care too much if they work out or not. If they don't: Ah well. The journey is the real fun and interesting bit.
I'll enjoy being free next year too and whatever number of years after that. Thanks 2008. Thanks to everyone that took time out of their lives to read Mulley.net, to leave a comment (even if calling me an asshole) and to share their thoughts and opinions with me offline too. See you on the other side.