FOI Request to IDA has generated this:
2012: €80,000 ex VAT
2013: €140,000 ex VAT
2014: €100,000 ex VAT
The below is for a press conference and networking event at the 2014 Summit. From IDA "Our networking event in the National Museum which had over 200 clients and potential investors present. We also had a press announcement with national and international media in the building to coincide with the event."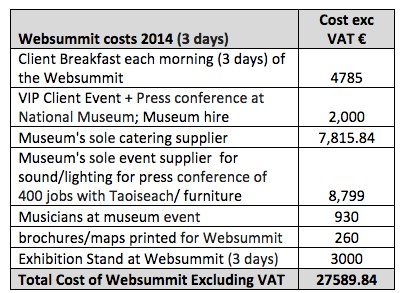 2010 and 2011 payments to Web Summit.
2500 people have subscribed to my website instead of coming back each day. You can subscribe to the site using a feedreader or email. I'm also on Twitter. My online marketing blog might also be worth a visit. Thanks for visiting - Damien.