Today we're sampling some of the wonderful work of Lili Forberg. Her blog is at http://misslili.blogspot.com and her portfolio website is at www.misslili.net. Subscribe!
::
This is my first ever guest blog post. What a weird thing to do, because when writing my own blog I feel like I just write to myself.. I'm aware that others read it, but I never really think about it.
Anyway, It is actually impossible to choose my two favourite photos. I have so many favourites, and I keep getting new ones because I am lucky enough to shoot amazing new people all the time (it's not only luck, I work very hard.. ha!) Anyway, the first one I chose is a shot taken at approximately this time last year, and because the Hard Working Class Heroes festival is coming up at the end of the month, I thought I'd give it a quick plug (check out www.hwch.net for details)
Last year, I decided to organise a photoshoot dedicated to the bands of HWCH, featuring musicians of bands which were playing that year. It was then going to be displayed in the HWCH photography exhibition in FilmBase and I was also hoping that a magazine would run it as well (Totally Dublin magazine published it at the end)
The shoot was over two days and featured over 10 musicians from different bands. All gathered in my studio in Smithfield where I had a stylist waiting for them with a selection of clothes, plus a hairdresser and two makeup artists. I was quite nervous before the day as I didn't have a clue how it was going to work out- none of the musicians knew each other, I didn't know them and I didn't know if it was going to be awkward or difficult or what to expect. I prepared loads (and loads) of sandwiches, filled the fridge with beer (you never know with these rock stars.. 😉 and hoped for the best.
Had so much fun on the day then, everyone was just amazing. The biggest challange was the fact that these people weren't just models that would wear anything. The stylist had to style them so that they still represent their music and their band, and also fit into the shoot as a whole.
So anyway, this is one of the shots from day 1.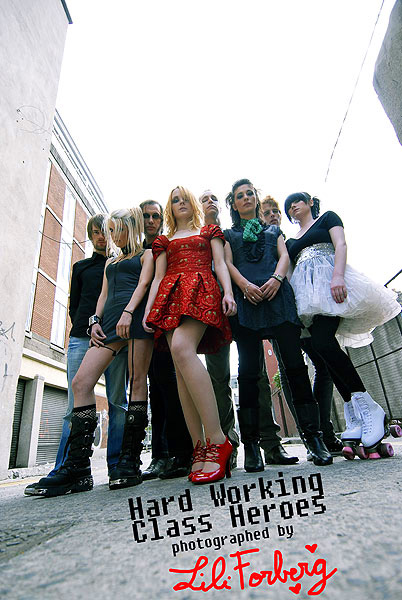 from left to right:
Gaz (Butterfly Explosion), Aoife (Moth Complex), Neilo (The Things), Karen (Cowboy X), Eric Eckhart, Caroline (The Radio), Colm (Sickboy), Niamh (Ham Sandwich).
There are more shots from the day here and here.
This second photograph, is one of my favourite photos ever, and definitely a shoot I will remember for the rest of my life. Model Emma Quinlan is a model with Assets, but also owns loads of snakes and performs with them in various places. So we decided to do a shoot with her snakes, which will also be used in InDublin magazine for a feature about her.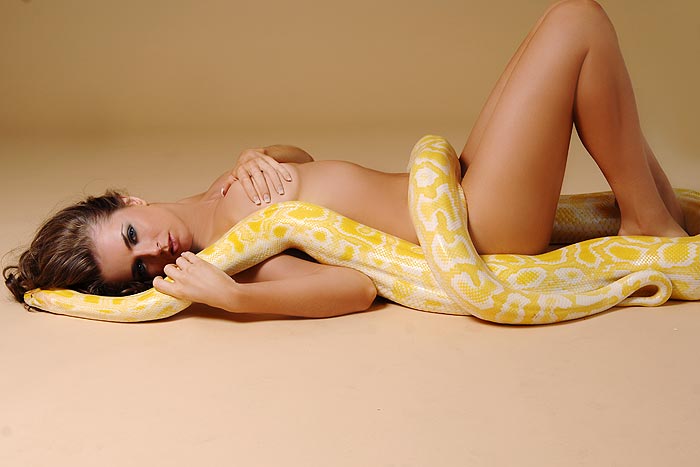 Emma arrived in my studio with 4 snakes (pictured is Bubbles) and a lizard. Two of the snakes were MASSIVE (around 5 stone each) and the other two were smaller ones. I helped her to bring her stuff up from the car and she handed me a handbag to take upstairs. There was a snake it it. Everywhere I looked there were snakes. It was crazy. They were all really cute though and so easy to work with. They would just wrap themselves around her. Whenever my softbox flashed, one of the snakes would rise up to it like a big poser. Emma said this was normal because he was light sensitive so he was trying get to the light whenever it flashed. It made for some very interesting pictures! I got my photo taken with Bubbles and Squirt as well which was fun and a bit scary at first. If you want to have a look at more of the photos, they are in InDublin this week I think, or you can see some of them over at my blog!
Thanks for reading, byesies.
MissLili x
http://misslili.blogspot.com
www.misslili.net