Woke up this morning to this: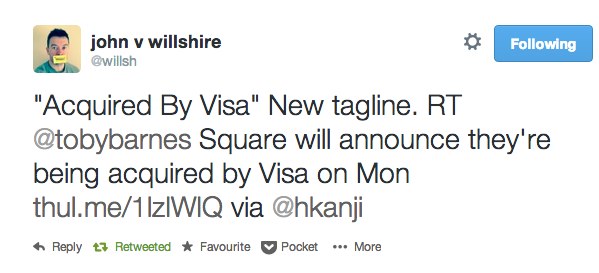 How can you trust a system that allows any rumour, lie or planned defamation to be published? Well, American laws for one. It's a hot startup and has millionaire backers for two. Plenty of startups that do very dodgy things are left unchecked for a while in case there's a chance they make money and others can profit from it. Ireland would knock and attack an idea like this, bludgeon it with negativity until we kill it. The American way is to encourage success so you can come in later and try and get a cut too.
Valleywag loves Secret. And some really good information has been leaked out through the app. And crazy fun stuff too. It was a Secret post that eventually unraveled the toxic truth behind how Github operated in such an anti-woman brogrammer way.
And the Evernote acquisition rumour was so far untrue. If you read this hilarious Tumblr, most of the rumours are untrue. Yet every now and then… Something like this too would be a perfect hoax, it's well known that Square is trying to sell itself and is failing to do that. Visa is already and investor and of course the Square founder is already well known for running Twitter. Hoaxes have to have reality as a base.
For hunting stories though, tiny bits of information, rumours that are mostly untrue but with a tiny amount of truth are things you can use to chip away at a story. A lot of investigative type stories are almost negotiations or trades. Approach a source with a little bit of information, see will they give you a tiny bit more when you offer than tiny slice of truth. Take that, move on, uncover more with that and chip away even more until eventually you have a solid foundation for a story and then are confident to approach the main sources you can use/you want for your story.
An hour after the Twitter chatter, nothing has happened to that Square piece. An hour with a rumour or bit of information is a long time in media and a very long time in tech media. But the Paltrow/Martin marriage on the rocks rumour was weeks on Whisper before the conscious uncoupling became a reality. Nieman Labs even goes through the use of apps like these for journalism. Journalism with a small j, mind. Buzzfeed has even inked a content deal with Whisper. Well it certainly won't be old-skool media would would find that distasteful and would take two years to come to that decision too.