Let your voters tell others why they're voting for you.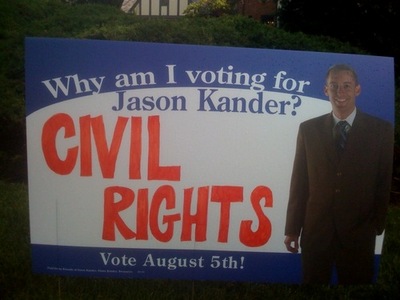 Jason Kander distributes signs for his campaign where those that display them on their lawn write in why they support him on the sign.
This will scare the total crap out of the parties here in Ireland. Give someone a sign you paid for and let them fill in the bits? Lack of control, lack of control! This is what this whole new web thing is all about though and now it's being re-applied in "the real world".
Blogs, social networks, YouTube etc. – Give people the space to express themselves. Their dime, their time, their effort. Build those places and let them be creative. They're better than you at being creative, they're more intelligent than you. Be the provider, let them play. Give them the tools to spread the word and evangelise their work which is on your space. They'll bring the traffic. For Jason they're expressing themselves on "his space" (his sign).
I should think that entrusting someone with one of those signs means they'll appreciate that trust and be more proud of supporting you and showing off their creativity.
Go democracy.

Photo owned by Mike Licht, NotionsCapital.com (cc)