So you want to run ads on Facebook for your business, whatever that business is. Thanks to social ads from Facebook you can target 167,000 people in Ireland that currently use the service in the same way that Google's ad system allowed you to target ads but even better than Google you can almost be sniper-like on how you target the ads. You can target by age, gender, work status, relationship status, college education and interests, something Google can't quite do yet. (though when the next iterations of Open Social happen, they will)
In this walkthrough, let's present were the typical snobby TCD student who can make an almost professional career of sneering at UCD students. So you've decided you want to advertise to UCD folks. All you need is a credit card and to spend a minimum of five dollars on your ad campaign.
1. You need to decide what your ad is going to be. For this example the Trinners student is going to advertise jobs in McDonald's to those in UCD.
2. So first go to Facebook.com/ads

3. Click on the big green button!
4. Choose what website address you want to be clicked. Here it's the job page on www.McDonalds.ie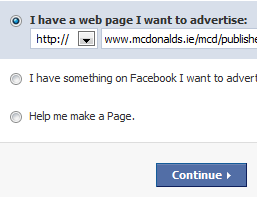 5. From here choose your audience. We picked 18-25 year olds that attend UCD.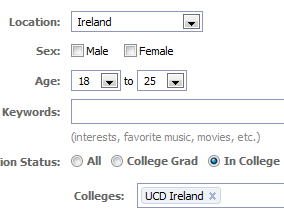 6. It said there were circa 1380 people from UCD on Facebook:

7. Then write your ad and you can also include an image. The McDonald's logo was chosen.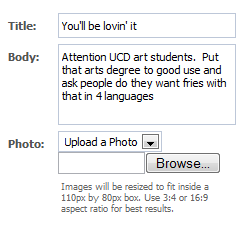 8. You can also see a preview of what the ad will look like: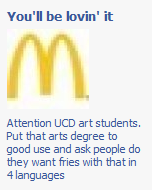 9a. After this you can choose how much is to be spent and what times the ad will be shown. You can also pay per click or by views: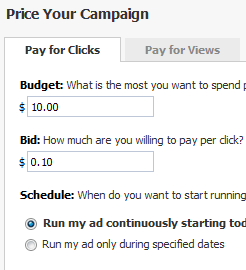 Update: Left out this bit:
9b. If you choose pay per views you have the option of also display the ad in the News Feed of people, something which will probably get you a lot more clicks and views since people actively scan and read their News Feed.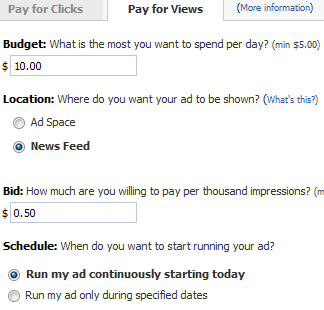 10. Finally, review the campaign and pay up and off you go.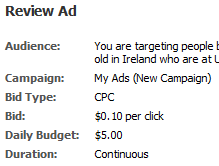 Happy annoying people or er doing business.
Remember though that just because you can advertise and target specific people does not mean that you will get a lot of click throughs. You have to work hard on writing good copy and using good images to get the attention of a Facebook public that doesn't seem to pay too much attention to ads. While I do think general advertising is becoming disintermediated, in the end if the web is truely democratic/equal and everyone knows SEO, everyone blogs and tells the story of the product and gets the cluetrain, it will again come down to branding and marketing professionals to help make your product the most liked product out there. Not everyone out there can work on making global microbrands so I forsee ad agencies and marketing companies training and educating people on how to do it right and of course helping those too busy to do it themselves.