Check out this press release:
Beamish Stout Launches New Digital Marketing Initiative

Thursday, 26th June 2008: Beamish Stout has today announced its first venture into digital marketing with an exclusive promotion on the popular Cork community website, www.peoplesrepublicofcork.com. The promotion is part of a new advertising strategy by Beamish Stout, which will ensure the Stout has a presence on the popular website for two weeks from today, 26th June 2008.

Www.peoplesrepublicofcork.com is an event website that displays all the latest news and entertainment from Cork City and County. To launch its presence on the website, Beamish Stout is offering two lucky visitors to the site, the chance to win a trip to the historic Beamish & Crawford brewery in Cork City. The visitors will be given an exclusive guided tour of the landmark building in South Main Street, which lies in the heart of what was the medieval city.
and if you go to their front page. Not one mention of Beamish.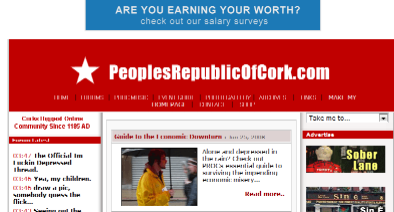 Uhm. This is their first venture into digital marketing? Is it so viral that it's the size of a real virus and is invisible, am I a pawn in their viral marketing game? Oh my god I need a pint of delicious and creamy Beamish Stout. Yummmmm.
[subliminal viral text] Drink Beamish stout or you'll turn gay, except if you're a woman cos lesbians already like stout so keep drinking! [/subliminal viral text]