Where else but the Irish Blog Awards? I've stuck up an overdue thank you post on the Awards blog to say thanks. I'm totally biased here but seriously, what a fun event. Got some great emails from people saying it was in a different league or a different world to most awards shows. I guess the Blog Awards are a fun event with an awards show in the middle more than a pure awards show.
Giant Inflatable Twister:

We got it from Bob over at Irish Inflatables. Maybe someone should chat to Bob about tarting up the site?
The original idea was to build a giant ball pit but the balls proved too expensive.
From my own experience attending events and awards shows, I think they actually beat down peoples' personalities instead of bringing them out. The suits and tuxes and standard MC and denying people the right to say thank you to the people that got them to the winning podium, it takes the humanity away. A few hundred quid for the experience shuts out more people that deserve a show too. So the Blog Awards and hopefully the Web Awards make people relaxed and enable them to have fun and when you have fun and are relaxed you can network. Everyone should be able to network. Friendships begin or get stronger at the Blog Awards. I hope the same will happen at the Web Awards. Where personal relationships are built, business relationships can follow, not the other stuffy way.
I suggested before the Awards that Ciara bring her work uniform (a wedding dress). A midway-through-the-event decision and we decided that Ciara would walk down the aisle at the end to the sound of Billy Idol singing "White Wedding" and present Rick with the Grand Prix Winner Gold Envelope. And she did. Another thing about Awards, make them flexible so you can change things around.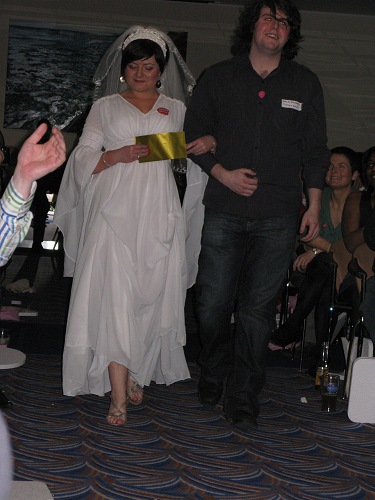 And a quick sweep around before the event started:

This is my fav video too for the intro of Best Technology Blog:

Of course with this type of expectation management, people are already demanding a bigger, better and crazier 2010 Blog Awards. Ok…