When Fund It was announced ages back along with other grant announcements like 180k on a hologram about Irish Coffee, I was slightly cynical. Sure it was just a clone of Kickstarter. And it was and is.
Fund It though is localised and with it, it has a vibrant community of people in the arts, trying to build creative or crazy projects with the help of the general public. I've been impressed with the way people are taking to it both as those soliciting funds and those contributing 5 euros, 10 euros or 500 euros. I've asked three people who have used Fund It for projects to share their thoughts on using Fund It. To note: I started writing this post in August and have finally had time to put it all together now.
I interviewed Philly McMahon from ThisIsPopBaby about Year of Magical Wanking, Eamonn Brett for his Wires project and Fiona Kearney from Lewis Glucksman Gallery about Mixtapes. I got very detailed answers back from everyone so I'm splitting this into three parts. First up is Philly, tomorrow will be Ebby and the next day will be Fiona.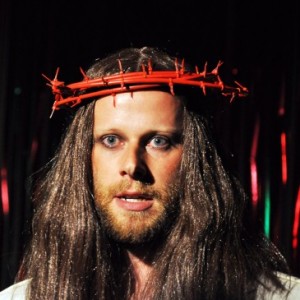 You've used Fund It for Year of Magical Wanking, anything else?
I lead the Year Of Magical Wanking campaign, and have advised the Late Fragments as well as some smaller advice to Paper Dolls.
Why use the Fund It route? What would you have done previous to this?
For theatre, some other options are:
Apply to the Arts Council for a grant.
Don't do the show.
Do the show with everyone working for free as well as beg borrowing and stealing equipment, props etc.
Fund It allows a project to reward people who wish to pledge money to their campaign. If the rewards are good enough, then it becomes less about charity and more of an exchange. For emerging companies or for projects that are unlikely to be eligible for public funding, Fund It offers an opportunity to raise all or part of the money needed to get a project off the ground. I guess it's the modern equivalent of a Pub Quiz fundraiser – only now you don't have to go to a boring quiz, and you might actually 'win' something you want.
Is there much work involved in running a Fund It drive? Setting up seems ok. There seems to be a lot of work in doing frequent updates/reminders about a campaign, did you have a plan of action for this?
There is a lot of work involved in creating your project. It's good to make a video specific to your campaign – writing clear copy for your homepage and working on rewards that are worth pledging cash for but are also achievable (while not burning a giant hole in the total you've raised – there's no point in raising 3k and spending half of it issuing rewards). Once the campaign is created, I would advise making a plan of how to roll out your campaign – how to keep it fresh and afloat for the time period you've chosen. We had a full plan of how, who and when we were updating social media sites, direct mails, mailshots etc etc. You have to constantly drive the campaign.
What were the main lessons learned from using Fund It, would you have advice for those thinking of using Fund It themselves for the first time?

I'm not entirely sure about lessons learned. there's very little that I wouldn't do again. my main advice is to choose a realistic target – ask yourself who is going to pledge money to your campaign and why. I'd advise people to have a really good campaign video – really clear copy (be economic with words – no waffle). Identify who is rolling out your project – there may be ten people involved but only four might be web savvy, so who is gonna drive the thing? I would advise people to question their social media networks – do they have enough friends, fans and followers to warrant sufficient interest in the project? And also to use Fund It as a way of giving friends and family an outlet to support their work. After that – my advice is to sit on the project until the very last day. it can be hard work – but no-one gets thousands of euros easily. Thank people, acknowledge people and be grateful. People are parting with hard earned cash – it's incredible.
Any other thoughts you'd like to add?
I think Fund It has some other plusses. For theatre, I believe it's a way of cultivating an audience. Before a show opens you already have X amount of ambassadors who will not only buy a ticket, but they'll bring friends. They'll tell people about this project they've invested in and they'll talk about it. I also think it's interesting to invite people to take a closer look at the artistic process – let them know how much things cost and how things are made. It can make the art form seem far less elite, and certainly for me that's important.