I met up with the lads from Cork-based Loopthing a while back when it was in Alpha to have a look at what it does for businesses.
The blurb from the site says this about them:
Loopthing allows every business to come online and network with one another, as well as providing customers with detailed information on their products or services.
The idea is that it will list your business on their site and also add lots of the social features we're now well used to on the likes of Facebook and other places. People can leave comments, companies can add photos, podcasts and videos and they can network with each other.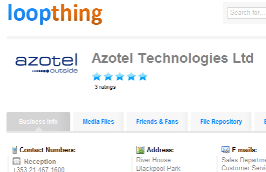 Lots of practical features on the way too which I don't disclose for now. Have a look about and send them feedback. Their blog is here. Right now this is a soft launch I believe. Why not get your business listed?