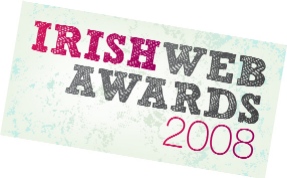 Finally got the press release out the door earlier this morning for the Moviestar.ie Web Awards on October 11th. Nominations open very soon. Like the Blog Awards it's a two stage affair. Stage 1 will see every nominated (and nominations are free) website get judged using a scorecard. Specific scorecards for each category will then be used in Stage 2 by the judges. An awful lot of work went into making sure that the scorecard was good enough to keep the staunch standardistas and the pragmatists happy and I hope that concentrating on these important areas will help push for better websites in Ireland.
The category list is here and interest in category sponsorship is already strong. Wahey! Not everyone will be happy with the list and will want their own niche included but for year one, we're content with going with that list. Changes as always will happen the next year. Sponsors cannot be nominated either to ensure transparency. We hope the 11th of October will be a fun night. Leave the tux at home folks, it's more fun without it.
I'd very much appreciate if people would spread the word about the Awards and encourage their web development friends and colleagues who have become cynical about award ceremonies to have a look at this.