The winner of that competition is, if we go to Google.ie: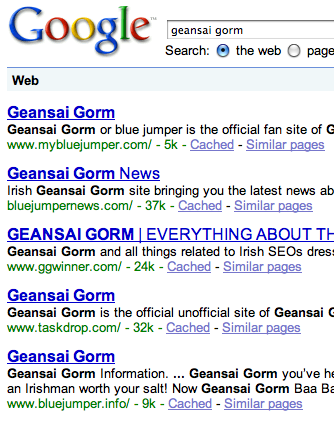 Congratulations to Paul Savage for his Geansai Gorm site MyBlueJumper.com
Honourable mentions: Cormac Moylan for going pure Irish and including the fada and seeing where it brought him. Some nice research into how Google really doesn't pay attention to the Irish language too.
Keith Shirley for running Google Search Ads just for this competition. A fantastic way of getting the attention of the people interested in this competition. Well done Keith.
Shame we saw some sites banned by Google for spamming. Hilarious that a fake press release made news in Limerick.
Many of those involved found it a learning experience though some I'm sure were bored to death by it too being the experts that they are. For the Web Awards 09 there'll be some kind of practical part that will either be about pure SEO or recognise it. (Best Practice this year had an SEO element to it.)