Logainm.ie is a database of the official Irish and English placenames for more than 100,000 towns, villages, parishes, islands, rivers etc around the country. The same team from Fiontar in DCU who developed Focal.ie have been working on Logainm.ie for the past 18 months.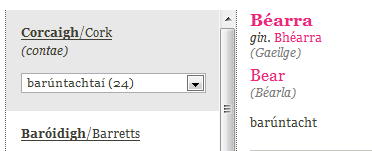 Looking around the site you'll see the scans of archived index cards with placenames research going back decades, and there are sound files of the correct pronunciation of more than 3,000 placenames in Galway, Donegal and Waterford available so far. Anyone with an interest in heritage, culture, history or geography should find it interesting. There are versions in Irish and English too.
For the second phase of the project they'll be adding an interactive map interface, sound files for all place names, teaching resources for primary, secondary & 3rd level & other features.