Traffic for 2006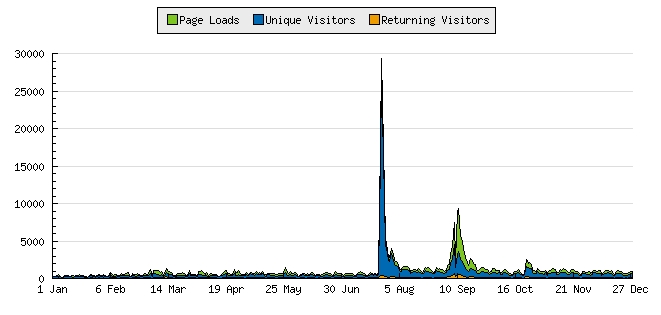 (Click to enlarge)
August spike is the Getting Laid with Google post.
September is the Twink Goes Apeshit post.
According to my stats there were 423,110 page loads and 292,031 visitors for 2006. Play with the stats page if you like.
One final 2006 thanks to Blacknight.ie for surviving the July onslaught from the 10s of 1000s of people wanting to know how to get laid using a search engine and who moved 15gb of data a day from my site during it. Because so many people linked to my site over that get laid post, my overall google ranking went up, thus you can see that even when things calmed down after July, the average page views went up a good deal afterwards. Apparently that post is used as an example of how to get traffic in some blogging classes. Hilarious. Sex sells, as does zipping mickeys.