Author Archive
Saturday, October 14th, 2006
I've been playing about with YouTube this weekend and going over old songs and music videos that I loved. Once upon a time I was big into my metal music. I started off lightly with Guns N Roses and moved from there to Ministry to Nine Inch Nails to Sepultura to Nailbomb and Fear Factory and Helmet and of course the traditional ones like Sabbath and so forth.
This was me at Ozzfest about 8-10 years ago wearing my favourite Sepultura t-shirt. (I used to go to a gym back then too.)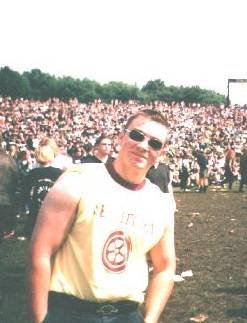 Ozzfest was one of the best music fests I've been at. I'm glad I got to see Pantera in their prime. Soulfly, Fear Factory, Entombed, Slayer and so many more. Black Sabbath were good too for pensioners. Brilliant atmosphere there but Milton Keynes as a town is a hole.
I'm going to blog about some of my favourite artists over the next week. To kick things off here's Freedom by Rage Against the Machine live in Mexico City.