That Night Follows Day was in the Everyman way back in November and I'm finally getting around to writing a piece about it.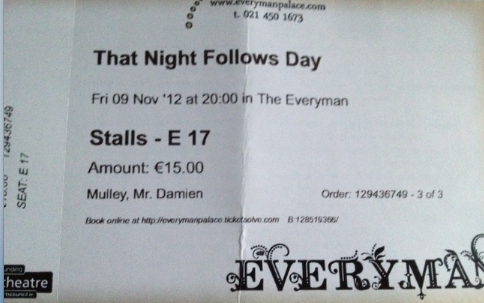 It's been around for years now but seems quite modern at the same time. A bunch of 16 kids, talking about how we adults see them, judge them, look after them, ignore them and so on. Spoken by kids, content is for adults. An hour's play that's just factual statement after statement:
You feed us. You wash us. You dress us. You sing to us. You watch us when we are sleeping. You explain to us the different causes of illness and the different causes of war. You whisper when you think we can't hear.
Written by Tim Etchells. This play is actually intimidating for those in the audience. Being called out for bullshit, the way we treat young people, the way we interact with ourselves. Silences and stares making you uneasy in your seat. It's excellent. Funny moments and serious and dark tinges.
The audience when we were there were mostly the parents of the kids and were laughing and clapping at many parts of the play. Kids saying fucking and motherfucking seemed to have gotten a shocked and hilarious reaction from the crowd. Naturally a whopping standing ovation at the end. And warranted.
A very talented bunch of kids. Some amazing performances from some in particular. Worth seeing when it comes back into your town.