Saw Alice in Funderland last night in the Abbey. Ballsy move to host Alice in Funderland in the Abbey. In the Abbey! The Abbey!! Bad language gets uttered in it. In the Abbey!!! The Abbey is not a fragile little place that modern life could shatter if the word fuck is uttered on the stage. And it hasn't, hurrah. But well done to the Abbey for breaking away from the usual stuff. Works like this should be in the Abbey.
I don't have the language or education to appreciate arts and culture and particularly plays but I do often feel that even the "modern" plays in Ireland are just variations of what has gone before. We have a world of Beatles cover bands, yet we need hip hop. Alice in Funderland is the Wu Tang Clan. It's real, it's present and it is genuinely capturing life and culture in Ireland right now. Junkies, taxi drivers, homeless, politicians, TV3. Some issues are timeless. Some are not.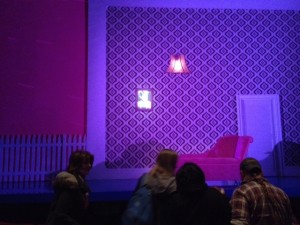 There are great songs, an amazing set and hilarious moments. I was crying with laughter at the taxi driver singing scene. It felt like Damien Dempsey was your taxi driver singing and uttering what we all have experienced from a Dublin taxi driver.
Dolores, the big bad is superb. The set rocks and the actors seem to have years of valuable experience behind them. Confident without being cocky.
Overall I think this is a piece of work to be proud of and worth bringing people to see. I'll be going again.