I was lucky enough to have lunch in Restaurant Patrick Guilbaud a few weeks back. €48 a pop for a three course lunch with the usual teas and coffees and Petits Fours included too. Speaking of which: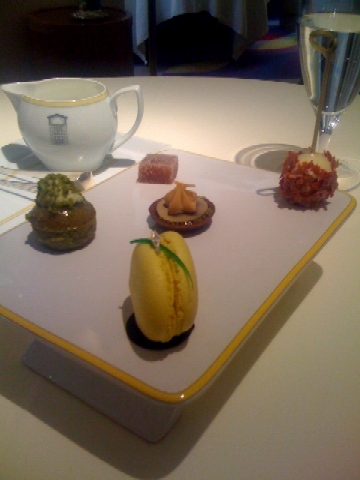 The food was stunning, as it would be from a two star Michelin restaurant. What really marks it out for me is the service. The service in restaurants that know they're special is non-intrusive, warm and not at all pretentious. I've been to restaurants where the staff think they and their workplace are special and have a snotty attitude towards everyone. Normally this gives them validation to have sloppy service, serving up variations of chicken currys. They're the "it" place for a blip in time and love the attention of the fickle public. Guilbaud's, Chapter One, Thornton's, Cliffhouse Hotel and other Michelin-like restaurants almost seem timeless inside their doors. They'll keep doing what they do to an amazing standard no matter the weather or economic climate outside their doors.
All the staff in Guilbaud's appear to be French and it seems obvious they are drilled as if they were in the military. With their black tux like uniforms you sometimes see the room flowing with black and white as they go about their work. Dishes are served with panache, on silver trays, covered with silver covers that are removed at the exact same time for everyone. Nice flair. No clapping allowed! Well, we didn't. In between courses someone with a silver crumber in the shape of a razor fish comes along to wipe the crumbs off the table. If you leave the table, someone is over to reposition your chair and refold your napkin. Tempting to do a Homer Simpson "lights go on, lights go off" type situation with getting up every few minutes.
I think any business that works in the service industry (and I think anyone that works with the public is such a company) would learn a lot about providing good customer care from dining at this restaurant. Everything seems to flow easily but you know tradition, training and thought have gone into everything. Every detail has been considered and whether you think this makes everything artificial or not, it still makes you appreciative. I was reminded of the Steve Jobs biography and how obsessive he was about everything. Not that I have read it but every second paragraph from it appears to have been quoted online already.
So yes, food, here's a surprise starter and the main course of veal. Surprise starter, starter, main course, desert, petitis fours and espresso came to €48 which for the food alone was worth it but the service we received will stay with me and inspire me to try and be that good with my own business. From communications, to product, to presentation of the product to (the hardest bit) making all of this seamless. Thanks Guildbaud's.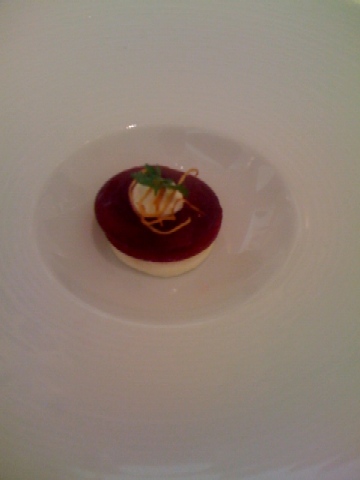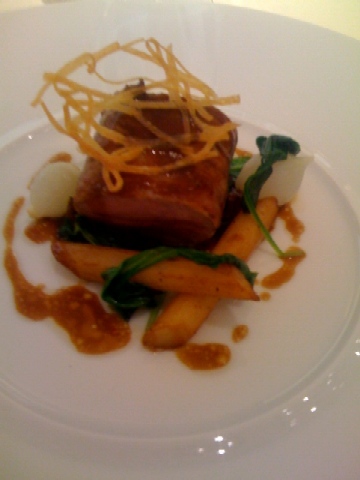 On that, the Restaurant Patrick Guildbaud has a book celebrating the first 30 years and it retails at €50. Profits will go to The Irish Hospice Foundation. Available at Avoca stores, Brown Thomas, Dubray Books, Fallon & Byrne, House of Frasier, The Irish Hospice Foundation and the restaurant itself at 21 Upper Merrion Street. The book is quite beautiful.