I was very recently given an invite to a social networking site/app based around your musical tastes. It's called uPlayMe. The install was easy enough, it feels like a java app but it's actually using the Net 1.1 framework on Windows. No Tom, no Mac version yet but they tell me Mac support is on the way. It's currently in Alpha. It installed quite quickly, asked a tiny amount of information like age, gender, email and password and that was it.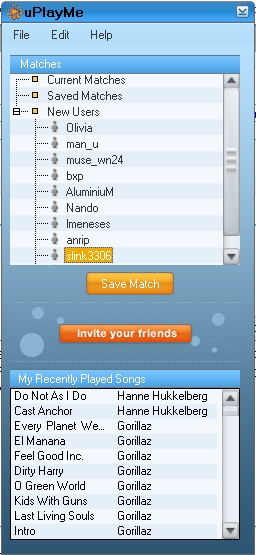 It scanned just ten songs from my recently played list in iTunes but you can set it for way more. No Winamp support yet but there is support for Windows Media Player. I'll play around with it more and add more songs and hopefully more people will come along.
uPlayMe was founded by Dan Pelson and Bo Peabody, both of who have been around the Internet block a few times. Amongst other ventures, Dan founded Bolt.com in 1997, one of the social networks around. Bolt is still going. But he's been a net entrpreneur since 1993. Bo founded Tripod way back in 1992, which he sold to Lycos for $58 million. He's currently a co-founder and managing general partner of Village Ventures, a fund with more than $250 million under management.
Dan was kind enough to answer some of my questions:
DM: Is there going to be Winamp support?
Yes, Winamp will be available at a future date. The goal is to have every media player and device supported either by us directly or through the APIs. Right now, we offer support for iTunes, but soon we will offer support for Windows Media Player, among others. We will also offer a MAC OS version. The Windows Media Player and Mac OS versions will be available within a month or so

DM(channeling Marc Canter): Will there be open APIs for this?
Yes, the application has been designed to be very modular and offer ease-of-integration with third party applications, whether they're proprietary video players, wireless (mobile) devices, etc. Our goal is to make it simple for any platform (or website, for that matter) to have their media assets integrated into a uPlayMe profile.

DM: So how will uPlayMe make money?
Right now, uPlayMe is dedicated to building a great product and increasing our user base. Revenue will be driven by standard sponsorships, text-based ads and a bidding system that allows marketers to associate their ads with songs, artists, and genres. In addition, we will offer a promotional system ("Faux-files�) that will allow artists and media companies to generate attention for their media assets by associating with other songs, videos and more.
uPlayMe is still just a wee baby but hopefully it'll grow and gain more features as the userbase grows. Download it yourself and try it out. Pity there isn't a blog for the development team so feedback can be given. Til then leave feedback on your own blog. Thanks to Alan for letting me know about this.