All of those end of the year articles streaming out of many media orifices towards the end of this month looking at back at what 2013 was. One of them to me was a year of being outraged and Twitter was at the core of it. While that game has always been around on Twitter, 2013 was certainly a peak and media and agitated personal lives definitely contributed.
Some asshole does something assholey and someone that needs to move their frustration out of their head into the public finds themselves being outraged. Just like we have "the Final Number One Single of the Year" now we have the final outrage of the year and it seems to be Justine Sacco. Now of course not only do you read about the outrage and every media outlet both professional and amateur (though these are only labels, not levels these days) telling us all the same story but now they've figured out you can analyse this to death as if it was a soccer match. "How did the pigeons in the council estate react Jeff?" See, why go and work for a story when you can just post-match analyse what's been handed to you via a Tweet?
Screen shot taken from Willow.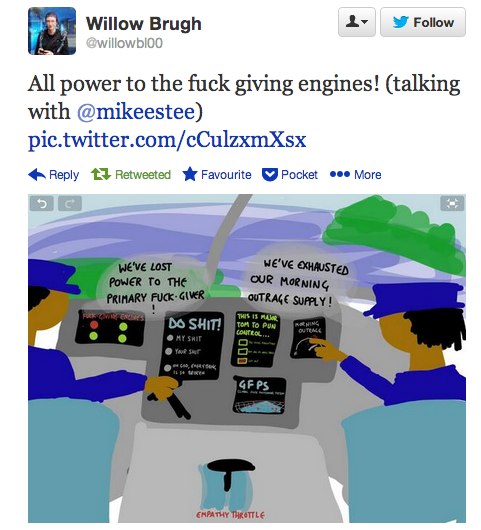 Already linked to this piece by Allen Pike about negativity will always come after you. in another post but worth pointing out here too:
As your audience grows, the chance of any given action triggering criticism asymptotically approaches 100%.
Without doing too pop-psychology about this but it probably says something about the people and the network that people now do Twitter searches to find spoiled kids at Christmas so they can out them. Everyone nowadays wants their Gotcha moment which of course they can share with others for approval. Micro-rewards of replies, Favs and RTs means it will happen again and again.
But it's not a Twitter thing, hunting like animals to find validation for your own personal issues is wildly encouraged by media outlets. Controversial opinion pieces in the Irish Times are great for generating outrage which are great for generating comments which are great for generating page views. Outrage has always been there, Gerry Ryan, Gay Byrne and Letters to the Editor thrived on that. Now it's en-masse and automated. Now we have article comments. And your tweets now get featured in print editions of newspapers too. "Here is what an outraged Twitter thinks", nice reward cycle.
Many media outlets have community janitors to wade through rivers of bile when really, who fucking cares about the opinion of someone in the comments? How does that better the lives of the readers? After all the work editing and sub-editing articles to get the right timbre and message and then some dope says "you smell" in the first comment.
Aside: I actually find it hilarious though that the people who give out about the comments on the likes of the Irish Times wet themselves when their carefully constructed Letter to the Editor gets printed, which probably gets stuck on the fridge.
If you keep reading the comments or worse reply to the comments in some of these spaces, it makes me wonder about you and not the trolls. If you keep following people on responding to bigots on social networks giving sisyphus a run for his money, I wonder about you more than the Twitter fools. I see these people that get outraged and incensed when someone who by their nature will never change says something that they will always say. Don't agree with a right-wing Catholic, just use the block button. I probably use the block button two or three times a day on Twitter, it makes me a little saner. Try it. I block all those lame-ass meme accounts too. I actually think I have more in my block list than my follow list. You control your stream, have you not heard?
You'll probably lose friends too but when someone starts a conversation says "Oh my God did you see what David Quinn said" just get in "I don't care". Again, makes life a little saner.
Leave a comment if you want, I may delete it but I very probably won't read it.