Update: This is in the Sunday Times tomorrow so publishing this now and not Monday.
So the Simply Zesty blog is dead since April as is their Twitter account. This week UTV's 2013 report came out and it was all very positive, mostly but…
So it looks like UTV have written off close to £3M in "value" from their Simply Zesty acquisition. The shareholders got the initial £1.6M in cash and then the other £3M in consideration was written down in 2012, 2013 and moved to zero for 2014. Last year UTV bought the remaining shares off everyone for £200k and didn't wait until 2017. They were bragging about the savings from that in the report. Uh lads, you were the ones that agreed a £4M valuation.
From the page numbered 104 in doc but is actually page 106
"The acquisition of the rights from the previous corporate shareholder On 14 January 2013 the Group entered into an agreement with a previous corporate shareholder of Simply Zesty Limited to pay a cash consideration of £200,000 in settlement of their rights in relation to the estimated contingent consideration arising on the acquisition of Simply Zesty Limited. The fair value of the related estimated contingent consideration amounted to £1,031,000″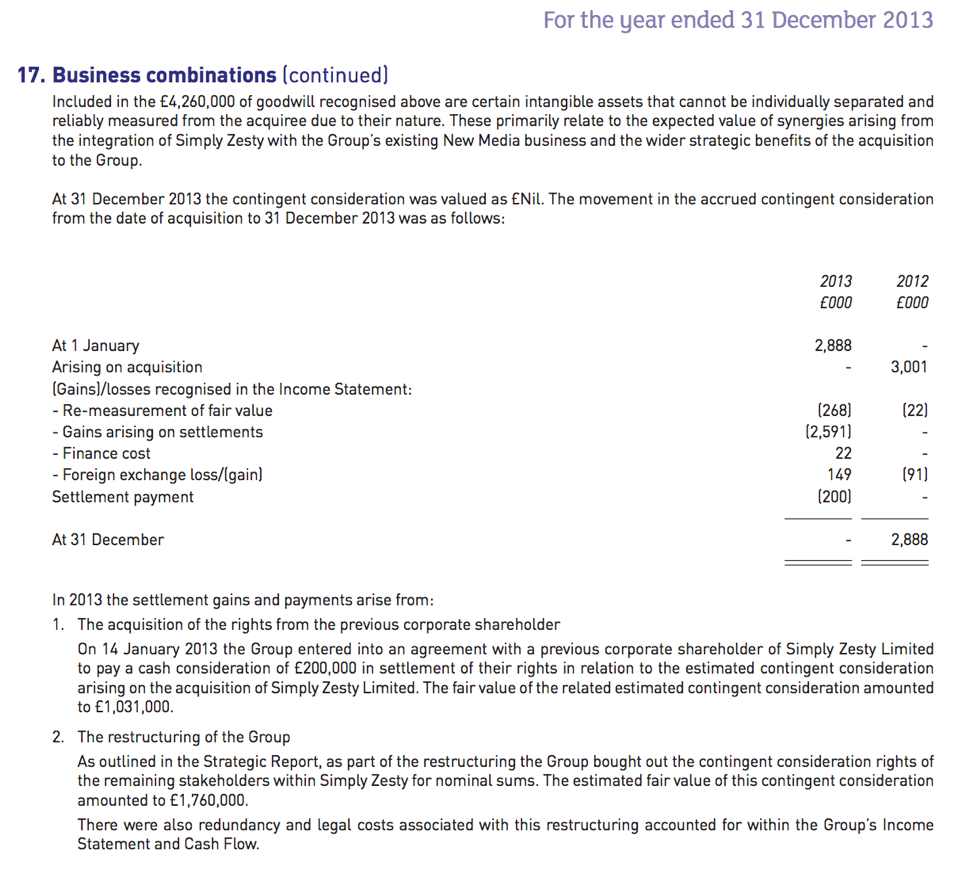 Other "highlights" from the report
As outlined in the Strategic Report, as part of the restructuring the Group bought out the contingent consideration rights of the remaining stakeholders within Simply Zesty for nominal sums. The estimated fair value of this contingent consideration amounted to £1,760,000.
At 31 December 2013 the contingent consideration was valued as £Nil
"it also involved the buyout of the contingent consideration from certain stakeholders within Simply Zesty which resulted in a credit on the release of the remaining fair value of this financial liability. The overall impact on the Group's results for the year was not material"
"Free cash flow from operations decreased by £1.7m to £15.7m (Restated 2012: £17.4m), reflecting the decrease in EBITDA of £3.2m, and a £2.9m non cash gain arising on the buyout of contingent consideration rights held by the previous shareholders in Simply Zesty as part of Group fundamental restructuring, the costs of which are included within EBITDA also realising significant gains on the buy out of contingent consideration arising on the acquisition of Simply Zesty in 2012."
"This restructuring also saw the merger of Tibus Digital Agency with Simply Zesty to deliver as a full service digital agency under the Simply Zesty brand. The integration of these businesses resulted in a change in the management within Simply Zesty and consequently the value of customer relationships was deemed to be impaired and the remaining carrying value of £188,000 was written off."