Someone told me last week that they're not going to start a blog now because Wired said blogging is dead. I think the blogging world has really lost out with that voice prefering not to be heard. No it wasn't Tom Sykes.
For Tom I'd just like to point to this link from Google Trends: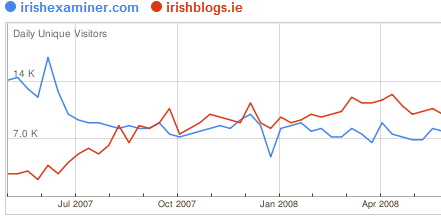 That's a simple blog aggregator for just some of the Irish Blogs out there. Some.
Shame IrishBlogs.ie got fucked in July by Google: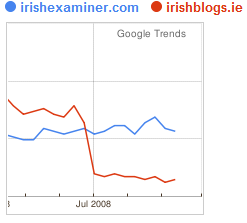 But hopefully you get my point. I'm reminded of that guy from the Indo group telling people at the UCC Journo soc that the kids (anyone under 35) that are leaving papers in their droves* will come back as they get older and get confused by the modern world and need a bit of conservatism and stability. No they won't, you're not the Catholic church lads. You don't offer that heaven lie.
*Note for Cian Ginty. Yes droves. Like I said before. When I said newspaper readership was going down and you pointed out how wrong I was by pointing to declining readerships** of the Indo and the Examiner***, that actually meant I was, you know, right.
**Another note for Cian. When a population goes up and readership remains stable or declines (you know like you proved in your own post when you failed to prove me wrong), guess what that means?
****One last note to Cian. See, I never mentioned National readership when I did that blog post on newspapers. You just jumped to that conclusion. I'm sure that was the blogger part of your persona and not the trained journalist part of your persona coming through there. Of course.