Darren Kenna and Darragh Collins, are going on a tour of Ireland around the 32 counties in aid of the Irish Cancer Society and the Irish Hospice Foundation.
Blurb:
This trip will involve us visting all 33 county towns(2 in Tipperary) and stopping to have a photograph taken at the town's most famous monument/building.

This epic journey will take us 2 1/2 days, starting on Wednesday 27th of August from Naas, at 7am, and returning to Dublin on the 29th at approx 12pm, so do come out and try to support us in your local towns.

For further information on routes and times please see:

We will be updating these with pictures and updates as we are on the road.

The Odyssey is a journey of 1300miles, and for comic value we are travelling in a 1994 3 door Nissan Micra, the picture says it all!!

All costs for this expedition are being paid for by ourselves, so any contributions made will all go to charity. We are hoping to raise €1200, and split it between the charities, so any sponsorship at all would be much apprecited.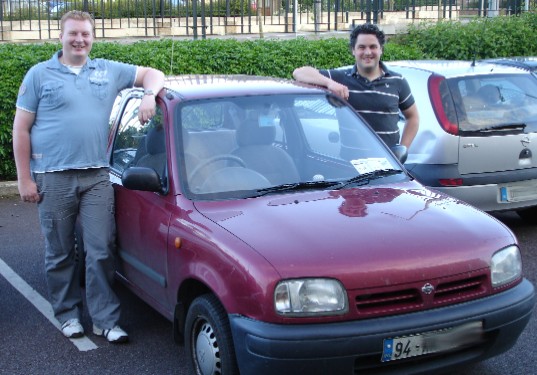 Well done to the lads and a great idea. I hope they get a good bit of attention and raise more than their target. I have a lot of time for hopices in this country. I'll get you a few pints if I'm around Cork too on those dates (see below). So, I wonder will any companies sponsor them? Loads of different opportunities there.
WEDNESDAY 27TH OF AUGUST 2008
Naas: 07:00
Carlow: 07:50-08:05
Kilkenny: 08:40-08:55
Portlaoise: 09:45:10:00
Nenagh: 11:10-11:25
Tullamore: 12:35-12:50
Mullingar: 13:25-13:40
Navan: 14:25-14:40
Dundalk: 15:25-15:40
Monaghan: 16:30-16:45
Armagh: 17:10-17:25
Downpatrick: 18:50-19:05
Antrim: 20:10-20:25
Derry: 21:50-22:05
Lifford: 22:30-bed
THURSDAY 28TH OF AUGUST 2008
Omagh: 07:00
Enniskillen: 07:40-07:55
Cavan: 08:45-09:00
Longford: 09:55-10:10
Roscommon: 10:40-10:55
Carrick-on-Shannon: 11:45-12:00
Sligo: 12:50-13:05
Castlebar: 14:25-14:40
Galway: 15:55-16:10
Ennis: 17:20-17:35
Limerick: 18:15-18:30
Tralee: 20:05-20:20
Cork: 22:10-bed
FRIDAY 29TH OF AUGUST 2008
Clonmel: 07:30
Waterford: 08:20-08:35
Wexford: 09:35-09:50
Wicklow: 11:20-11:35
Dublin: 12:35-PARTY!!!