Tom Waits Glitter and Doom Tour – Dublin August 1st 2008
As we got to our seats we knew we were going to have a great experience being just four rows from Tom, dead centre. You can't really beat that. Being able to actually read the setlist on stage (well if I wore my glasses) showed how close we were to this odd and enigmatic man.
This was the final night of the Glitter and Doom tour and Tom didn't want to leave the stage it seems. He belted on, full of energy for two and a half, nearly three hours, creating mini dust storms as he went. The sound was excellent, his throaty voice was er throaty. The band were simply amazing especially the guy that played the sax (two at the same time). Great guitarist too. Waits also has two of his sons in the band with him.
Tom is great with a crowd, playing and feeding off them and the crowd adored every single thing he did. Half the audience will be trying to buy his style of hat today, no doubt. I won't go into the music because I only knew half of his songs but I think he pleased everyone with them.
Fantastic organisation too for the gig too. Putting it down as the best gigs I've seen this year. Better than Bruce, sorry Bruce. For me it was on a par with Odin's Ravens' Magic by Sigur Ros in Paris.
Tonnes of bloggers were there too so I expect we'll see a good few reviews. Maybe Ciarán will have one too?
Update for pics (shit ones from iPhone):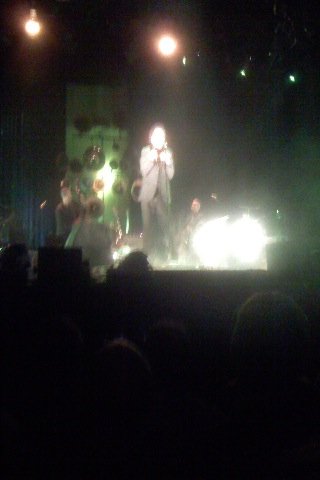 Tom singing "Down in the hole" for The Wire fans: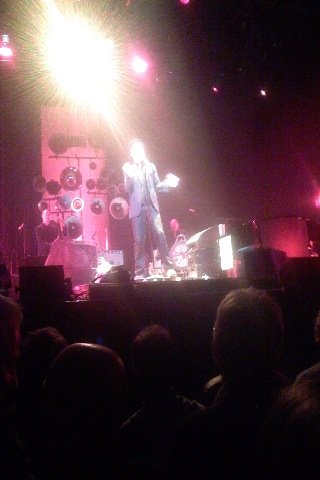 Tom singing "Tom Traubert's Blues":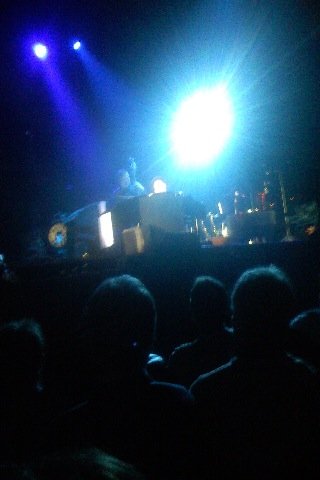 Tom singing er something: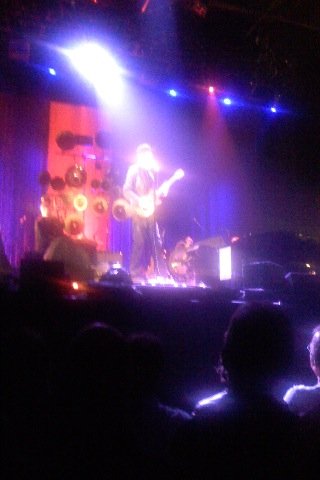 /5 on