Pronounce it Pixie. Yeah? Good.

The blurb:
Pixie is a popular photo sharing site based in Ireland. Launched in August 2007, Pixie has registered users from over 120 countries and is currently storing millions of images on their behalf. Pixie's free service which includes an upload quota of 500MB/month, is used by both professional and amateur photographers, families, friends, students, charities and photo bloggers, i.e. everyone!
So yes, an Irish Flickr some will say but it's a tad easier to get your stuff out of Pix.ie. Tried that with Flickr recently? It also looks prettier.
But what I personally like more (Jesus when did I become a capitalist?) is the fact that they allow co-branding and commercial profiles. Promoters also get access to the Pix.ie commercial API which can feed live photo streams of their event or competition back to their official site. Throw in blogs and discussion forums too and you have a really nice hosted social platform for events and promotions. Why build something and self-host for a limited-time event? Makes sense. I also hear that groups are on the way.
Also, the way the images are displayed are much nicer than Flickr too and as has been spotted by those rascally Irish bloggers, they've got a nice deal going with Guinness Storehouse where people upload the photos they took at the Guiness Storehouse to Pix.ie.
That 3D gallery looks great, so spread the word about Pix.ie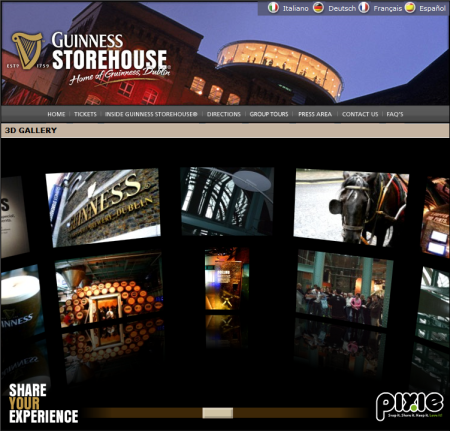 Want to be part of the Tuesday Push, find out how.
Coming up in the next few weeks are Toddle, Crewger, eWrite and more!