Hattip to the smoking man with the smoking gun. 🙂
From the best damned website in Ireland, The Property Pin:
The CSO compiles statistics on how much rent people pay. (PDF Link) The past few months they've been showing it going up consistently. "Rat smell" says the people of ThePropertyPin.
When I asked where they got thier figures for rent I was told form several sources including estate agents. Estate Agents are, it would seem, thier primary source!!

They do not ask tenents what they are paying as this would proove difficult when tenents move on. They do not do like for like monthly questionaires of tenents, ( eg tenent in 3 bed semi in a particular estate in Dublin and then use the same estate again in the following months).
I just called the CSO Cork office. Told me the same thing. EA's and Local Authorities (for Council rents) are their only sources. They don't go next nor near tenants!
Richard Delevan already covered the fact the Irish Times don't trust prices from Estate Agents/Auctioneers anymore. So rental is the same now?
On Tuesday the number of properties to rent on Daft hit 12,000 for the first time. May 07 was 5000, so thats 140% increase. Have a look at the number of properties available for rental explode (via Daft Watch):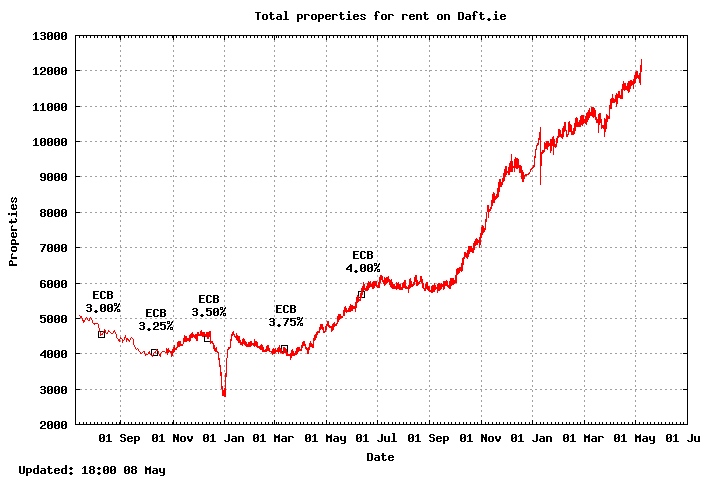 Watch those rental properties plummet with the Rental Price Drop Forum. I love it. Not the dropping, the idea of such a forum.
So there you go.