I met Gordon from eWrite yesterday and towards the end of the meeting he demoed the new eWrite Lite service to me. It impressed me. It's simple to use, no software is needed to be installed on the client machine. It's all done via the web browser. I'm sure I'm not alone in having to teach people how to use some visual editor like Frontpage or the like in order for them to update their simple websites.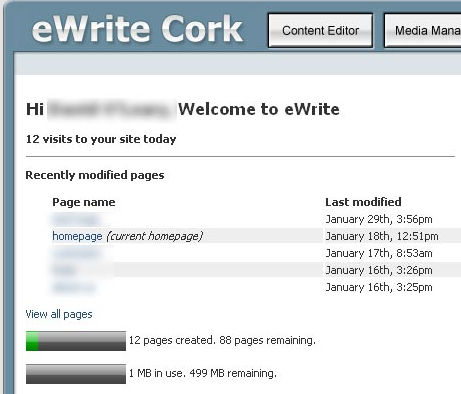 I'm thinking very basic business sites or sites for sports teams or organisations. eWrite looks after that with an editor that does all the basics but does it right. There's this whole niche or maybe blurry area for brochure like sites where they need updating now and then but they're just too small for any web design company to do without charging a few hundred quid. The jobs that generally land on me or kids in the Junior Cert who are neighbours of the business person.
Well, I think now I know what to do with them. Direct them to eWrite. eWrite costs 200 euros a year so certainly doesn't break the bank.