It seems a little flimsy especially after using Meebo which feels a bit more robust.
If you log into Facebook this morning you'll see a new bar all along the bottom, a bit like the status bar on your browser and over on the right of it you'll see something like this:

When you click on it you'll see all your friends who are online and you can chat to them by clicking on their name. Just like MSN or AIM or Meebo. Nothing new at all to IM but it might get those who don't use existing IM services to start using this to chat to each other. Another piece of stickiness on the Facebook Venus Flytrap. This is what a chat window looks like. I hope Brian Mc doesn't mind his chat shown here:
One feature I do like is the Newsfeed updates show up in the chat too. That's pretty viral.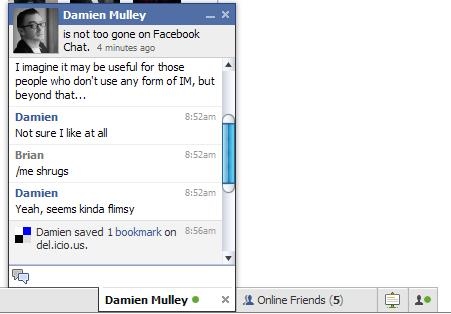 So handy for those that don't have IM and I'm sure just like Facebook Mail, they have plans to allow you access your other IM services soon.