So in case you missed the memo, Facebook allows companies and individuals to basically create profiles for brands which they call pages. Instead of friending them like you do on Bebo or mySpace you "fan" them. What's really clever (or maybe awful depending on your viewpoint) is that when someone friends a brand it shows up in the newsfeed of their friends. A nice viral way of spreading the world. BUT you can also run ads based on this action. Sinéad mentioned it before when a friend of hers became a fan of Phantom.
This is what it looks like:

So anyways, I thought it would be a hoot, yes a hoot, to create a page called Cock so that you could see "Mary has become a fan of Cock" on news feeds. Alas, Facebook have a naughty filter. BOO!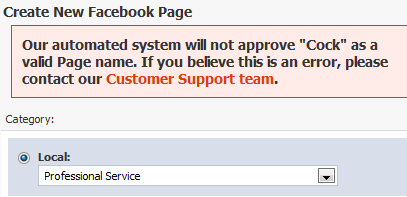 So screw it, I created the fanpage for Gnéas, the Irish word for sex. Aren't I almost clever? Why not become a fan of Gnéas?
And this is how it's seen in the Newsfeed: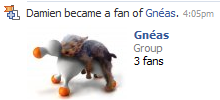 As well as that I have ads running too so when someone you know is a fan, you'll see an ad like the one for Tim above, though it'll look something like this: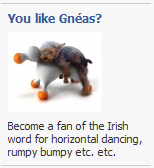 Yes, it's accepted I have too much time on my hands.