The Blog Awards is almost sold out. Book your place now otherwise you'll have to buy one off a tout outside. Tickedzzzzzzzzzz buyin or selliiiing tickedzzzz. 400 bloggers in one room. Jaysus.
Rapture Ponies has her Fluffy badge too.
Vote for Donal. Too many turkeys and puppets already.
Get your Twenty on. First bit of his book is online.
Edgecast are hiring a trainee podcaster.
People give out about RTE polls but Una points out a good one.
Hehe. www.Yourbusinessisaloadof.co.ck
177k records stolen and the Data Protection Commssioner crowd are "concerned"? Calm yourselves there dudes!
Cupid Stunt does not get his wish that his blog post is the only link in a Fluffy link post. No soup.
Fluffy link bait from Cupid Stunt.
XKCD godness. Yes, I said godness. It's why we're all late to bed: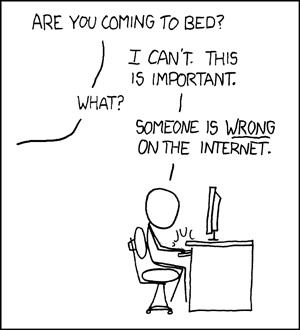 Larry for Congress. He's already been on the West Wing.