(note as of publishing this, Patrick's site is down, oops)
Patrick Collison has created an app for the iPhone and with it that stupid debate about laptops in schools and maybe even the broadband in schools debate can be killed off. It will also be the best pubquiz hack ever too. For Patrick has created an offline version of Wikipedia with a search engine sitting on top of it.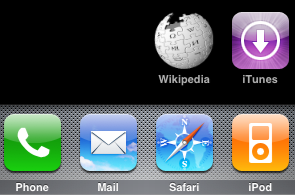 Handy if you're not in a WiFi area which in Ireland is a lot of places. Why not give all the kids one of these instead of a laptop, since it's an iPod and a phone too? They'll always have it with them then. 2 Million articles of knowledge right there for them.
I know I'll find it handy. And not just for pub quizzes. The install file is BIG. 2 gigs big because afterall it is the whole of Wikipedia really, compressed down. Don't hammer his site too much. 🙂