Image from Gizmodo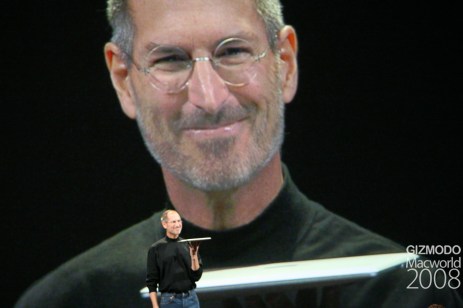 MacBook air goes from 0.76 inches down to 0.16 inches at the thin end. It's 3lbs. It fits inside an envelope.
Magnetic latch, 13.3″ widescreen display
Multi-touch trackpad
Display is LED backlit. iSight is built-in. MacBook-like keyboard, but with an ambient light sensor
Otellini from Intel: The processor is as thick as a nickle and as wide as a dime.
1.6 GHz Standard Intel Core 2 Duo
80 GB hard disk standard, or 64 GB solid state if you are loaded
1.8″ Hard Drive
802.11n + Bluetooth
2GB memory standard
Price: $1799.
Music from the new ad for the MacBook Air is done by Yael Naim.
Yael Naim – New Soul