So this writers strike in Hollywood/America. No shows can be made if they don't have writers. Heroes, Lost and loads more are going to be delayed. While Letterman has done a deal with his writers, the main strike is going to go on and on. Where is the IDA on this? Why are they not showing ABC, NBC and CBS what we can offer them. Let's export all the quality shows we have out there and even create spinoffs.
Fair City L.A.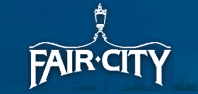 Bella, Leo, Jimmeeeeeeh and whoeverthefuckelse is on that show take a trip out there. And fit in. But all written and filmed in Ireland. The setmakers already make it seem like Carrigstown is realer than real so L.A. should be just as easy to copy on to shaky wooden frames.
But there's more!
But hell, with P.S., I'm an eejit doing so well and Irish accents being all hot again, let's give them quality stuff. Glenroe. Dinny and Miley and Fanny and Biddie and endsinYie and their Billy Barry kids with D4 accents.

Then to feed their habit, let's unleash Bracken on them. No, not the fella, the show.
And the game shows
Where in the World (book still available for 200 sterling) and Head 2Toe should be exported out to Lala land too. (Aside: I would have thought Fustar had some Theresa Lowe stuff but alas no.)
We have tonnes of stuff that we could ship over. What else could we send over? We've not even started on the quality from TV Three.