Gotta love this. So you're a Fianna Fáil councillor. You're on Facebook, like we all are.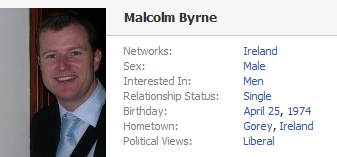 You install a Facebook application your mates sent which asks you what drug are you and it says you're cocaine. Jesus, imagine if anyone saw your public profile and you left that there, they'd blog it or something. Fucking bloggers. And now we throw in the default joke about Fianna Fáil always loving their Charlie. You know, this may not be best time to do that quiz.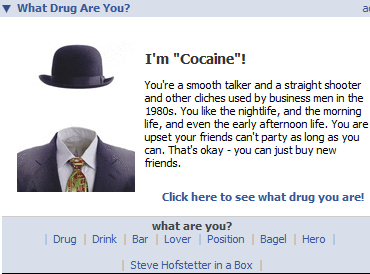 Above is what it looks like and below is the text.
I'm "Cocaine"!

You're a smooth talker and a straight shooter and other cliches used by business men in the 1980s. You like the nightlife, and the morning life, and even the early afternoon life. You are upset your friends can't party as long as you can. That's okay – you can just buy new friends.
Saying that though, Malcolm's mates say he is the most trustworthy of all of them. Oh and he drinks the most: