Right, thanks for those that voted for me and judged me for the Netvisionary Award. I won for Technology Journalist.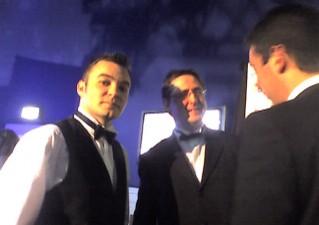 We were not allowed give speeches except for the overall netvisonary who was Fergus Burns from Nooked. Met him twice now in the past seven days and the guy is a networking dynamo and someone with a very progressive attitude about Ireland and technology and what needs to change. Well done Fegus. About time and very much deserved.
Anyways, if I was allowed to make a speech I would have said the award was dedicated to Richard Delevan who hired me for the Sunday Tribune and guided me for the past 10 or so months. It would be great to see more people scouting the very talented blogging community that we have in Ireland and offering them various opportunities. There are a fair few bloggers out there that can and do give a lot of journalists a run for their money.
I should also thank Ralph Averbuch, Ciara O'Brien, Eamonn McGrane, John Kennedy, John Collins, Adrian Weckler, Max Kelly, Mark Tighe, Kathy Foley and so many more journalists who have interviewed me when I was at the other side of the fence causing trouble (and mostly still am) and in doing so helped me to communicate my own thoughts in a better way. Same goes for everyone that leaves comments here and gives feedback whether they agree with me or not.
Thank you everyone for being my army of editors and my free R&D team.