As well as having DSL broadband, eircom has a licence for wireless broadband and is meant to be supplying it in 80 locations in Ireland. So far ComReg and eircom have failed to educate the public as to where these locations are. IrelandOffline managed to get hold of the list which is at the end of this post. So with a national wireless broadband licence, which eircom have had for four years, you'd think they'd have a good deal of customers on it, right? 5000 customers? 2000? 1000? 500? Nope. 200. It'd be interesting to know how many people are near these locations but are instead paying out a fortune for satellite.
eircom are squatting on this wireless spectrum so nobody else can use it. Despite ComReg and the DCMNR being made aware of this, the regulator has said they are quite happy that eircom are fulfilling their licence obligations. Meanwhile ComReg withdrew Smart's 3G licence after being told to do so by eircom. Different rules for different companies. I've talked to a good few ISPs who would love to use this spectrum but alas none will speak out against ComReg. This spectrum would be great for rural ISPs too. In the end the consumers once again suffer with lack of choice and competition.
If you are in line of sight of these locations (They generally correspond to large red and white masts or towers) then you are meant to be able to get this service. A tower can look like this: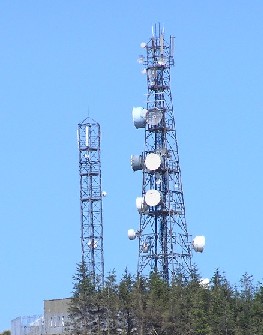 The bad news is that the service is a 512k service down and 64k service up. Rental is around €€54.45 per month and installation is €€732.05. It is still cheaper than two-way satellite broadband that many people have had to resort to.
If you apply to eircom and they tell you the service is not available to you, depsite you residing in an area that's on the list, then I would be very interested in hearing from you. Contact eircom on 1800 503 303 to try and order this service.
Below is the eircom wireless map that the telecoms poodle had on their site which I found and stuck on the IrelandOffline forum. After finding out IrelandOffline was linking to it, the telecoms poodle deleted the map from their website. We had it saved by then of course. ComReg and eircom are meant to have this map available to the public but for some reason they both don't want you to know. Here it is: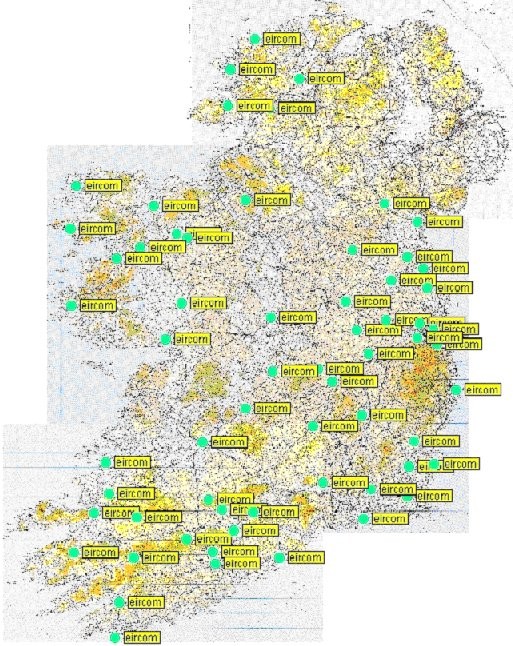 Here are all the locations eircom told the Oireachtas they are serving wireless from:
Athlone
Ballina
Ballinrobe
Ballyguile
Ballyhoura
Ballylane
Ballyspellan
Barnesmore
Beenageeha
Belmullet
Bralee
Bweeng
Campile
Cape Clear
Cappagh
Cappard
Capparoe
Cappataggle
Carrickmacross
Carrigadoon
Castlebar
Castleblaney
Churchfield
City West
Clifden
Coolmine
Crohaun
Cullenagh
Curraross
Dame Court
Drogheda
Dromgold
Drumkeeran
Dundalk
Dungloe
Dunmurry Hill
Edenderry
Falcarragh
Farnaght
Fourknocks
Gallow's Hill
Glencoum Wood
Glengoole
Glenteige
Harristown
Inchee
Kilbride
Kildorrery
Killorglin
Kilmuckridge
Knock Airport
Knockaneagh
Knockanimpha
Knockanore
Knockgour
Knocknaboul
Lisnabin
Mallow
Mervue
Minnaun
Mongorry Hill
Mount Oriel
Mulmosog
Navan
Nenagh
Portlaoise
Roches Street
Rossmore Bog
Scartbaun
Shanettra
Shelmaliere
Slieve Glah
Slieveboy
Slievemish
Thurles
Tuam
Virginia
Whitechurch
Woodtown
Youghal