Scoble, Techcrunch, Techmeme, front page of Del.icio.us and populicio.us. Shame I didn't get higher in Digg, but 89 Diggs is great.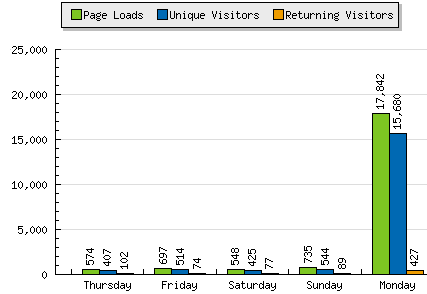 Big thanks to the folks in Blacknight Solutions who easily handled the traffic surge. It's crazy to see how much bandwidth this ate up too over the past 24 hours. EDIT: Paul from Blacknight let me know I transfered 7 gigs of data today. Damn.
I didn't beat the Infactahnista's record of 20k visitors in one day but I got close enough. Thanks to everyone who left comments and linked to me. It really does show that sex and Google does sell.
But holy fuck I made Fleshbot. Woo, I'm so honoured.

I'm sure I'll be editing the previous post to add in tips on how to use Froogle to find the cheapest chocolates and roses. There was talk of another few guides such as "How to get laid using Yahoo!" and "How to get laid using MSN". I'm sure there's far too many jokes that if Microsoft helped you to get laid you'd pick up every type of virus known to humanity.