Philipp Lenssen pointed to a guy who had business cards made that look like Google search boxes with his name in them. Not a bad idea but I don't think Google would be too impressed with their logo on his cards. It might obviously confuse people as to who the guy works for.
Here's my own idea for a business card: make it look like an ad on Google. Bit too restrictive though if you want to get everything into it but follow the same restrictions as a Google ad: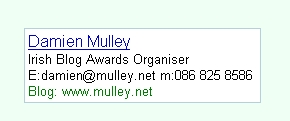 I created this by actually making a Google Ad in my Adword account and doing a screencap of it.